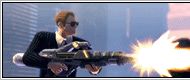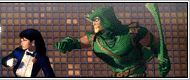 DC Universe Online News & Events & Guides
DC Universe Online: Green Lantern DLC Pack
When DC Universe Online was first announced, a lot of people had a simple question: "Can I be a Green Lantern?" Starting this summer, you can.
DC Universe Online: Fight for the Light offers you the chance to wield a power ring and take on three new missions. It'll be out sometime this summer. It's also the MMO's first major piece of paid downloadable content. That's right -- this isn't one of the free updates developer Sony Online Entertainment puts out. Fight for the Light will cost $9.99 and is the first part of SOE's plan to regularly put out "sizeable new content" rather than waiting for one massive annual update.
What's going on and what do you get for the money? Well, first and foremost, there's a brand new power set -- light. When you create a hero or villain in DCUO, you choose the abilities and powers your character has. Buy this DLC, (dcuo gold)and you'll be able to create (or respec level 30 characters) that use power rings. Good guys get Green Lantern rings and bad guys get Sinestro Corps rings.
Now, here's the bad news -- SOE said that DC Comics wasn't thrilled with the idea of 5 million new Green Lanterns running around in DCUO. So, even though you can wield a power ring, you'll only be a Green Lantern reservist. That means you don't get the logo on your chest -- just a blank circle. That sucks. You still choose a weapon like a bow, gun or whatever, but the ring is used as your special powers in the onscreen tray. So, your special moves are the hard light constructs.
[Source:Mmobread]
[Author:Mmobread]
[Date:11-12-16]
[Hot:]