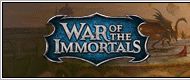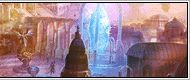 War of the Immortals News & Events & Guides
War of the Immortals Officially Launches
The free-to-play giant recently launched War of the Immortals, which was announced back. Players can now log in and start their adventure to become a demigod for free.
Players that register for a free War of the Immortals account and join the game between now and December 31st will also have a chance to win a number of the more than $2500 in prizes during the War of Immortals Hardware Giveaway event that includes in-game items, gaming hardware and in-game currency.
You can sign up for your free account on the War of the Immortals website.
After several months of testing, War of the Immortals continues to draw players worldwide into an adventure guaranteed to transform would-be heroes into legendary warriors and demigods.
War of the Immortals features stunning landscapes, interactive environments, awe-inspiring monsters, and a unique pet system based on the concept of 'capture and customize'. Its advanced guild system allows players to establish housing for guild members,(War of the Immortals Gold) recruit new warriors, plan dungeon runs and create new recipes and items.
"In War of the Immortals, we have combined some of the most requested MMORPG features and created a compelling game with a unique blend of interactive dungeons and intense territory war features," said Jonathan Belliss, Executive Producer, Perfect World Entertainment Inc. "Now that we've launched, players are discovering a balanced game great for leveling up beginners, but challenging for seasoned gamers. At higher levels in War of the Immortals, skill, teamwork and strategy are critical."
Those who participated in War of the Immortal's open beta can expect a seamless rollover of their characters, rank, pets, gear and other in-game earnings to the live game.


[Source:admin]
[Author:zqq]
[Date:12-01-11]
[Hot:]