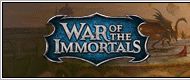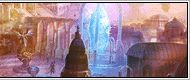 War of the Immortals News & Events & Guides
War of the Immortals Announces Beta
Perfect World Entertainment today announced its latest MMORPG, War of the Immortals, a new addition to its long lineup of popular online RPGs. Leveraging Perfect World's latest Cube graphics engine, War of the Immortals features destructible environments, beautifully vivid landscapes and awe-inspiringly, epic monsters.
"With the announcement of War of the Immortals, fans of role-playing games can rejoice as we bring the MMORPG genre to a whole new level with fast-paced action, more content and bigger PvP elements," said Thang Phan, Product Manager for War of the Immortals. "War of the Immortals brings the most requested features from players together in a compelling new game."
In War of the Immortals(War of the Immortals Gold), the evil legions of Ragnarok have returned to Atlantis and players will find themselves in the aftermath of a great battle. With impending doom still at Atlantis' doorstep, players must heed the call to action and take up arms. Only then will good have a chance to prevail over evil. As War of the Immortals implies, players should expect that the conflict has been escalated with more challenging content, larger scale battles and engrossing PvP.

[Source:admin]
[Author:zqq]
[Date:12-01-09]
[Hot:]